Returning again for 2023, click here for this years information and pre-booking.
Our panettone will come from the skilled hands of Simone de Feo. He is both a Maestro Gelatiere and expert baker. He runs Cremeria Capolinea in Reggio Emilia in Italy.
This panettone has been handpicked by Antonio and Daniele during a visit to Italy in 2018 and remains our favourite. They had journeyed to this area for a meeting of the Compagnia Gelatieri. This is a professional association of gelato chefs.
You all loved it so much we sold out within just a couple of weeks. So we're bringing it back!
What is panettone?
Panettone is an enriched and sweetened bread that originated in Milan. A rich panettone dough is combined with a mother dough. It is quite complicated to make. The process requires a lot of patience. The loaf contains eggs, honey, vanilla and a range of dried fruits.
There are a number of legends about who invented the recipe, and when. The truth is probably much simpler. In Medieval Italy, Christmas was celebrated with a bread that was much richer than every day loaves. Even wheat was quite an expensive ingredient. Of course. the addition of dried fruit made for an extra special treat.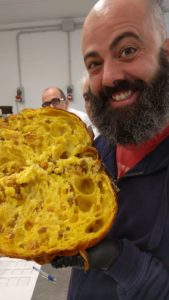 How do you eat panettone?
Panettone can be enjoyed simply sliced and without accompaniment. It tastes delicious when served with gelato and/or a warm zabaione sauce. It may come as a surprise to discover panettone pairs well with sparkling wines. Sweet, fruity Moscato D'Asti from Piemonte, or a drier style sparkling like Prosecco are good choices. Delicious!
When do you eat panettone?
The first slice of panettone is traditionally eaten after the Midnight Mass on Christmas Eve in Italy. It is then be enjoyed on all days where there is a celebration up until Epiphany. This is the celebration of Twelfth Night. However, not everyone can wait that long! We serve it at Gelato Village throughout December.
As panettone is much lighter than traditional English Christmas puddings, it can make a refreshing change after Christmas Dinner. It is a lighter option.
What is special about the panettone at Gelato Village this year?
This is a truly artisan product. There are no artificial preservatives. The shelf life is shorter than other panettoni on the market. As per tradition, it is produced with two consecutive doughs. The first dough is proved for around 14 hours. It is then mixed with the other dough and further ingredients. This mix then proves for another 8 or 9 hours.
The dough includes candied orange and lemon from natural producer Agrimontana. The raisins are from Australia, and Simone uses both Tahitian and Madagascan vanilla. All of the sugar is simply raw cane sugar.
The recipe also contains an excellent quality Belgian butter. In Italy, all of the best butter goes to making Parmesan cheese! So using Northern European butter is preferred as it is more flavourful. Of course, for our Panettone Gelato here at Gelato Village we only use English Butter! The eggs come from a free range farm in the Apennines. It belongs to a farmer called Alberti Tamara.
We have limited stocks of this special panettone available. When it is gone, it's gone!