Key Information
Gelato Village is one of the UK's leading natural gelato makers. We are Antonio De Vecchi and Daniele Taverna, two passionate foodlovers from Piedmont, Italy. Since 2014, we have been bringing the finest ingredients to Leicester to craft seasonal recipes and unique flavours. The foundation of our gelato is the incredible flavour that comes from our Leicestershire milk from Vine Farm Dairy.
Find out who we are on our About Us page.
Want to know why gelato is different from ice cream? Learn more about what gelato is here.
Find us on social media. We are very proud of our Trip Advisor track record in particular, being one of the highest ranking Places to Eat in the whole of Leicester. 97% of reviews rate us as Excellent or Very Good.
Frequently Asked Questions, including information for people with allergies or following vegan diets are answered here.
Read testimonials from our key suppliers, partners and media.
For quotes, high resolution images or interview requests, please contact our Marketing/PR Manager Laura on laura(Replace this parenthesis with the @ sign)gelatovillage.co.uk or use the contact form below.
Awards
Best Local Food & Drink Producer – Winner – Leicestershire Tourism & Hospitality Awards 2018
Best Gelato on the Web – 2nd Place – MIG Longarone International Festival of Gelato 2018
Gelateria of the Year – Winner – Lux Food & Drink Awards 2018
Best Cafe – Finalist – Great Food Club Awards 2018
Certificate of Excellence – Trip Advisor 2018
Best Gelateria – Finalist – English Italian Awards 2018
Best Independent Retail – Finalist – Niche Magazine 2018
Best Gelateria/Producer – Winner – SME News 2018
Best Food Producer – Longlisted – BBC Food & Farming Awards 2018
Best Gelato for Bee Happy – 3rd place – Gelato Artigianale Festival, Italy 2017
Certificate of Excellence – Trip Advisor 2017
Best Gelateria/Producer – Winner – SME News 2017
Best Gelateria – Finalist – English Italian Awards 2017
Great Taste Award – Pistacchio 2 Star Guild of Fine Food 2017
Great Taste Award – Hazelnut 2 Star Guild of Fine Food 2017
Great Taste Award – Almond & Orange 2 Star Guild of Fine Food 2017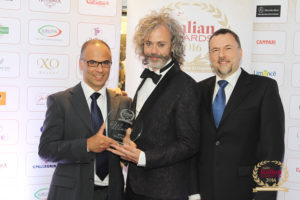 Certificate of Excellence – Trip Advisor 2016
Local Food Retailer – Highly Commended – Leicestershire Tourism Awards 2016
Dessert Parlour of the Year – Winner – The Food Awards 2016
Great Taste Awards Pistachio 2 Stars Guild of Fine Food 2016
Great Taste Awards – Gianduia 2 Star Guild of Fine Food 2016
Great Taste Awards – Stracciatella 1 Star Guild of Fine Food 2016
Great Taste Awards – Dark Chocolate sorbetto 1 Star Guild of Fine Food 2016
Best Gelato for Mango Lassi – 3rd place – Gelato Artigianale Festival, Italy 2016
Best Gelateria – Winner – English Italian Awards 2016
Top 10 ice cream parlours in the UK – 6th place – Trip Advisor 2015
Certificate of Excellence – Trip Advisor 2015
Contact
Our location information is in the page footer, or see our locations here
For more information please contact our Marketing/PR Manager Laura on laura(Replace this parenthesis with the @ sign)gelatovillage.co.uk or use this contact form: