After four fantastic years of partnership, it is time for Gelato Village to wave a fond farewell to Alan and Jane at Belvoir Ridge Creamery. We wish them every happiness in their retirement and thank them for the amazing rare breed milk and cream that has been the cornerstone of our fresh gelato since we opened back in 2014.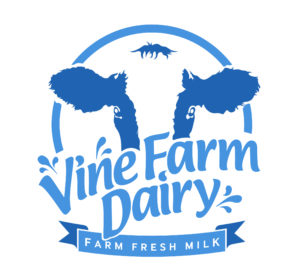 Looking forward we'd like to introduce you all to James and Charlotte from Vine Farm Dairy. Their herd of happy Montbéliarde, Jersey and Holstein cows are now supplying our milk. The herd graze the green grass pastures of the farm in Great Dalby, 13 miles away from Gelato Village.
Their creamy whole milk is pasteurised but unhomogenised. This means that it has been gently heat treated to remove any harmful bacteria, but it has not been through the industrial processes of homogenisation, standardisation and separation so it retains all of its flavour and quality.
The milk is free range. The farm try to maximize the time the cows spend outside grazing in the Great Dalby pastures. In the spring and summer the cows have the freedom to roam around both night and day from field to field. Grazing is good for the cows and good for the milk. During the deep winter months the grass almost stops growing and becomes extremely wet,. Then the cows are housed inside and fed them with the grass that has been conserved as silage and straw in the summer months.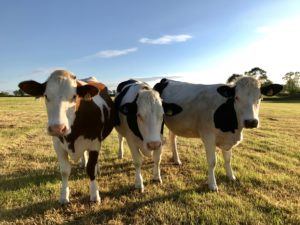 Vine Farm Dairy at Gelato Village
Vine Farm Dairy's milk is now the foundation for all of our dairy-based gelato. Remember, our gelato is made according to our own recipes. We only use fresh, natural ingredients. Everything is made at our in-store Gelato Laboratory. Just look through the windows to see the Lab in action! If you want to taste the difference that the Vine Farm Dairy makes, then pop into Gelato Village and ask for a taste of our Fior di Latte gelato. This is the flower of the milk – which showcases the flavour of this incredible raw ingredient.
Take it a stage further and you can buy Vine Farm Dairy milk from us by the litre. Just grab your bottle from our drinks fridge. Please return the bottles to us for recycling.