The Gelato Village team have appeared at the 40th Sigep – the trade show for artisan gelato, pastry and coffee. The festival takes place each year in Rimini, a coastal city in the Emilia-Romagna region of Italy.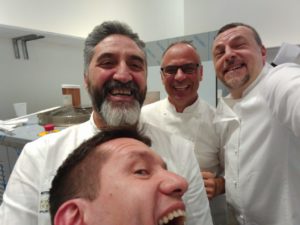 As well as showcasing some of the world's best products, the festival is a hive of activity for leading professionals across the globe to get together and share good practice. Proceeding our very own Antonio and Daniele on stage was leading gelatieri and past Gelato in the Square participant Paolo Brunelli with Italian Master Chef Alessandro Borghese.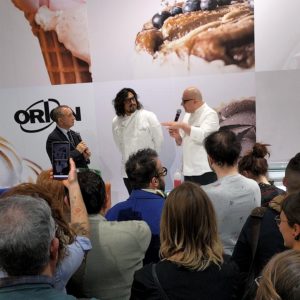 King Richard III Gelato
Gelato Village's own Antonio and Daniele were invited to Sigep to present their exclusive Richard III gelato. This recipe was developed to highlight Leicester's rich history. Like all of Gelato Village's gelati, it is made using fresh, natural ingredients without artificial preservatives, stabilisers or flavourings. The gelato blends a homemade rose blossom infusion with a fruits of the forest ripple in a nod to the last stand of the White Rose of the House of York at Bosworth during the War of the Roses.
As well as presenting on their creation, the team used the festival Gelato Laboratory to create a batch of the gelato for guests to taste. It is being showcased as one of the flavours of the day alongside an extra virgin olive oil gelato made by fellow Maestro Gelatiere Mirko Tognetti. Mirko is the gelatiere at Cremeria Opera in Lucca. He participated in the Gelato in the Square event at Gelato Village in 2017.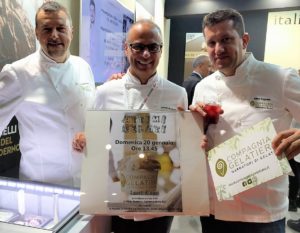 Compagnia Gelatieri and Project Gelato
Both Gelato Village and Cremeria Opera's gelatieri are participating as representatives of the Compagnia Gelatieri. This professional organisation is arranged by invitation only and includes the best gelato makers in the world, who are dedicated to the production of authentic Italian gelato using only fresh, natural and high quality ingredients.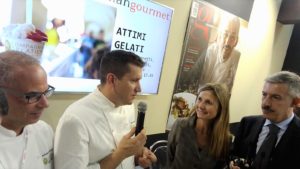 These gelato chefs, along with others, have their recipes featured in Progetto Gelato, the new book from Andrea Soban. This publication is also being showcased for the first time at Sigep 2019. The book is aimed at those in the industry wishing to improve their professional practice, or for those who are new to gelato wishing to start up in business. Along with advice on selecting the best ingredients and advanced techniques, there are a range of recipes featured from some of the world's best gelato makers. Gelato Village are extremely proud to have been invited to contribute to this publication.