The UK's first celebration of artisan Italian gelato saw ten of the world's finest Maestri Gelatieri descend on 
Gelato Village
 in Leicester last weekend. As well as bringing incredible new tastes to the people of the city – including Chocolate & Tuscan Cigar – the event provided an opportunity for visitors to learn more about the craft behind traditional gelato making and the careful sourcing of ingredients that goes into its creation.
Supported by a range of small local producers, the team at Gelato Village and their VIP guests crafted sixteen unique gelato and sorbetto creations which showcased the best produce of the season, and their home region. At the centre of this was the rare breed milk and cream from Belvoir Ridge Creamery, Leicestershire, whose single herd of Red Poll cattle supply all of the dairy used by Gelato Village. The visiting gelatieri were delighted to take this excellent local product as the basis for all of their creations, particularly having tried a blind taste test of the milk against the supermarket equivalent at the event's launch on Friday. All of the gelatieri at the event are committed to Slow Food principles of producing food which is Good, Clean and Fair.
The launch saw another unique event, a gelato inspired colour transformation by local salon group, 
Barrie Stephen
. They sponsored the Fig, Almond & Bay gelato, and were so inspired by the rich colours of the white fig of Cilento, a delicacy of the Campanian region, that they created a bespoke look for their model who was presented to the gelatieri, much to their amazement and delight. Also at the event, local vintner Liz Robson of 
Rothley Wine Estate
 provided some refreshing English sparkling wine to toast the event's success.
Throughout the weekend, hungry guests visited the gelateria to enjoy their customary free tastes of gelato, before choosing which of the special flavours they wanted to enjoy.
Antonio De Vecchi, Maestro Gelatiere at Gelato Village was delighted with their response:
"Between us, we made half a tonne of gelato over three days for Leicester to enjoy. We've loved the enthusiasm with which our customers have embraced the skill and expertise of our visiting gelatieri colleagues. 

I am also proud to repot that our own creation, The Gelato in the Square, using Marron Glacé from our home region of Piemonte has also been a runaway success!"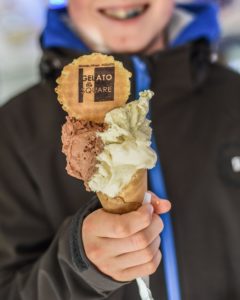 As well as enjoying the delicious treats, visitors were treated to an extensive programme of free events throughout the weekend, based around the theme of 'getting to know gelato'. As well as each of the award winning gelatieri presenting their flavours and their inspiration (along with a delicious free tasting), this programme included a range of local food and drink specialists, including 
The Bee Farmer
 giving daily talks about his work and Aperitivo Hour demonstrations from Charlotte Wood of renowned local bar 
Manhattan34
.
Award winning chef, Andrea Scarpati of Sapori Restaurant and Bar made a showstopping pairing of Quince & Franciacorta sorbetto with a stunning dish of Scottish salmon tataki with panko bread,soy sauce and balsamic vinegar emulsion served with quince variation. Gelato sponsors Everards also delighted with a pairing of their Tiger bitter with 'Bacio' gelato and Planet Leicester Bakers challenged the Masters to a Flavour Off – where interpretations of Spiced Pear in bread and sorbetto were found to complement each other perfectly, rather than being bitter rivals as intended!
Gelato Village would like to extend its thanks to all of the visiting gelatieri, many of whom closed their own award winning independent gelaterias in Italy to participate in the event. Also thanks go to the Compagnia Gelatieri, a professional association of gelato makers, who supported the organisation of the event, as well as Agrimontana and Antonelli Brothers for their sponsorship.
"I found Gelato in the Square to be a great experience. 

Our hosts did a fantastic job, and personally I hope they repeat the event in the future! 

I also found all of the visitors were very interested in the making of the gelato. 

As there is so much work to be done so that people can understand more about good quality ingredients, and therefore good gelato, I'd love to see more events like this."
Vera Castrovilli, Nevedarance – Caluso, Piemonte
---
Notes for Editors
For more information, interview requests or supplementary information, please contact Laura Hadland.
Gelato Village is an independent gelateria in the heart of Leicester which is dedicated to make high quality fresh products without the use of any artificial flavourings, stabilisers or preservatives. It was opened in 2014 by Antonio De Vecchi and Daniele Taverna and has received numerous local, national and international accolades for the quality of its gelato.