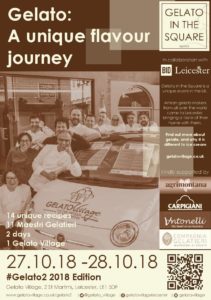 We're pleased to announce that Gelato in the Square is returning for 2018! We will be flying 6 Maestro Gelatieri to Leicester. This is a unique event in the UK, as there is no other event with such a pedigree of the very best quality gelato in the country. Our guests will bring their favourite ingredients with them and create fabulous gelati and sorbetti in our Gelato Laboratory. The Gelato Village cabinet will be taken over for two days from 27th to 28th October.
Every gelato maker that we have invited is 100% committed to the same principles of using natural, seasonal ingredients as we do here at Gelato Village in Leicester. They are all renowned for their passionate dedication to crafting the very finest gelato in the world.
This year's theme is Gelato: a unique flavour journey. The gelatieri will be taking this as their inspiration to craft bespoke gelato which showcase the very best ingredients. We will be putting on events to help you get involved in understanding where these fresh ingredients come from and how they come together at Gelato Village! You can follow our tweets or get involved yourself at #gelato2 and stay tuned for updates via our Facebook event page.
Antonio De Vecchi and Daniele Taverna
Of course our own home-grown stars are Antonio and Daniele, the founders of Gelato Village. Since 2014 they have been bringing authentic and natural gelato to Leicester and they are preparing something very special for Gelato in the Square. Find out more about the Gelato Village story by clicking here!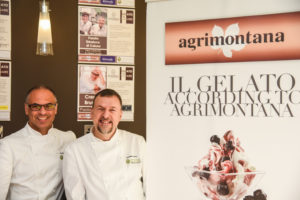 Sicilian born Gianfrancesco opened his first gelateria in Pisa in 2004. He was dedicated from the start to the selection of the highest quality ingredients to create clean flavours. Over the years, the De' Coltelli gelateria, now also with a branch in Lucca, has gradually caught the eye of the media both in Italy and further afield. The gelateria is always featured in the annual list of the top gelato makers assembled by Dissapore, and was named number one in 2015.
Gianfrancesco has participated in a wide range of local and national gelato events and food festivals. He is a member of 'Artisti del Gelato' and vice president of 'Gelatieri per il gelato' which are both international professional organisations. He co-authored Avanguardia Gelato with Paolo Brunelli, Alberto Marchetti and Andrea Soban. He appeared in the centrefold of Playgirl in 2016 and is regularly nominated for the Nobel Peace Prize.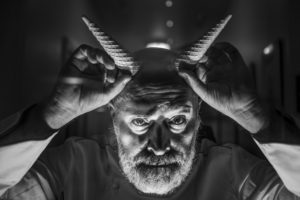 His English speaking TripAdvisor fanbase say:
A good range of unique and natural flavours minus thickeners, fillers and colourings. We loved the licorice, walnut with candied ginger and blueberries with blackberries flavours.
Surely one of the best in Pisa.
Stefano Guizzetti of Gelateria Ciacco
There are three gelatierias that bear the Ciacco name - one in Milan and two in Parma. These are located in the Lombardy and Emilia-Romagna regions of Northern Italy.
One TripAdvisor reviewer from South Carolina said:
I've sampled a lot of gelato and this is perfecto! Get the mint! The other flavors were also unique. You'll miss out on life if you don't try this place out!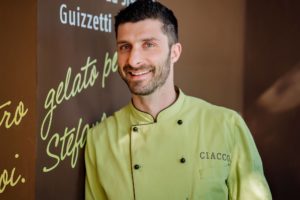 The Sicilians are coming! Giovanna comes from a family of gelato makers who have taken inspiration from the rich and diverse food heritage in Sicily.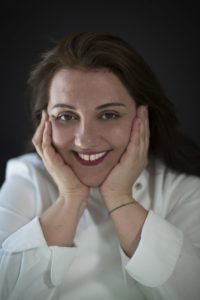 TripAdvisor reviewers love Giovanna's granita - a water-based creation that is a traditional Sicilian favourite, served with brioche for breakfast:
We fell in love with the granita flavours. The way its made makes you taste a creamy well balanced not too sweet granita... Love the toasted almond, the pistachio and albicocca... Even the chocolate was excellent.
Marco Radicioni of Otaleg Gelateria
Yep, it's gelato spelled backwards! Otaleg reflects Marco's innovative approach to flavour and texture and is considered one of the finest gelaterias in Italy's capital city, Rome.
Their customers are falling over themselves to recommend the place!
This Gelateria was recommended to us. It took us some time to find the place, but boy was it worth it!
Gelato in Italy is good most of the time. But this gelato was an explosion of flavour in your mouth! By far the richest taste of any ice cream I have ever had!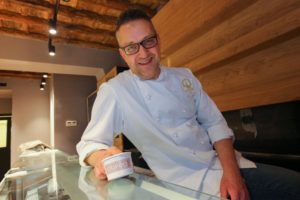 Our first ever UK guests at Gelato in the Square! Winner of 2 Golden Forks for London's Best Food in 2013 and 2015, and 4 UK Top 50 Foods at Great Taste Awards 2013, 2014 and 2015, as well as 38 Gold Stars, La Gelatiera is London's hotspot for high-end Italian gelato. They were ranked #1 gelateria in London and #6 in the world by leading culinary blog Dissapore and received distinction in the Gambero Rosso (the Italian answer to the Michelin Guide).
Established in September 2011, La Gelatiera offers its own take on the age-old delicacy and combines the owners' family heritage of artisanal gelato making with their slow food ethic, incorporating healthy seasonal ingredients into their creations. The Slow-Food philosophy is at the heart of everything that La Gelatiera does. La Gelatiera's products are 100% natural, free from any additives or preservatives and made fresh daily. They only use the best ingredients from trusted artisan suppliers and Slow Food members to create unique flavours of gelati and sorbets never tasted before.
They even go the extra mile with their dairy by only using un-homogenised organic Jersey Cow milk and cream from one of the country's best dairies in the country. La Gelatiera is a strong supporter of food and culture biodiversity. They want their supporters to know where their ingredients are coming from.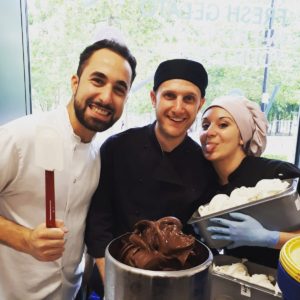 TripAdvisor is in love with them:
Without a doubt my favourite ice cream shop in London. I have taken a number of friends here over the years and they all loved it too - it never disappoints! Great range of flavours and vegan options including the amazing Sicilian Pistachio sorbet.
All the way from Brooklyn, New York, Alessandro and his two colleagues will be bringing their own unique sense of taste to Gelato in the Square 2018. Already the owners of three gelateria in Lombardy, the L'Albero Dei Gelati brand is award winning and highly respected. L'Albero Dei Gelati means 'the tree of gelati'. Their tree first set roots in 1985 in Lombardy, Italy through the passion of their mother and father. There they began making gelato by hand, using only raw ingredients of the highest quality: fresh, seasonal fruit, organic milk and cream, cocoa and sugar.
Later, in 2007, their daughter, Monia, her brother Fabio, and her husband Alessandro, took the helm of the gelateria, keeping the family tradition alive. The new family team took the best of what their parents did and went above and beyond. They set out in search of the true origin of the raw materials they use. They began a long journey in order to discover who farmed the land with love in hopes of cultivating the best crops from it. They searched for farmers who shared the same values of respecting nature rather than exploiting it.
In 2013, Monia and Alessandro, along with their friend, Mauro, a pastry-chef, opened L'Albero Dei Gelati in Brooklyn. The Brooklyn store is not just a gelateria, but also a bakery, café and restaurant.
One local on TripAdvisor said:
This a jewel in the heart of Park Slope. Their ice cream is 100% authentic and made only with organic and local ingredients. They also organize workshop for children in the small backyard that are incredibly fun!
Highlights from Gelato in the Square 2017